This
single seat car that VW is working on would get 250+ mpg, top speed 75 mph.
It can travel over 400 miles on its 1.7 gallon fuel tank!
It weighs 660 lbs.
This car is powered by gasoline only, and its 250 mpg is not one of the
phony plug in hybrid mileage ratings that does not include fossil fuel
burned to make electricity -- its an honest 250 mpg -- amazing.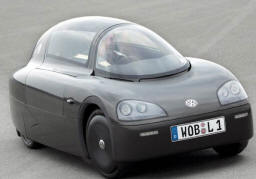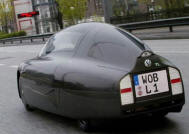 Said to be ready to go on sale in Shanghai in 2010.
More here...
Gary